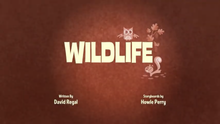 Wildlife is a Season 1 episode of The Mr. Men Show.
Synopsis
Mr. Bump falls prey during Mr. Noisy's wild life photographic hunt; Little Miss Calamity's fuzzy pink slippers take a walk on the wild; and a skunk stinks up Mr. Per(s)nickety's hike.
Plots
Mr. Noisy and Mr. Bump's Plot: Mr. Noisy takes Mr. Bump out to take pictures of flamingoes, cape buffaloes and white alligators for a magazine.
Miss Calamity and Mr. Scatterbrain's Plot: Miss Calamity tries to get pink fuzzy slippers from Mr. Scatterbrain but ends up getting monkeys, angry lizards and tigers. In the end she gets them along with pygmy fruit bats.
Miss Sunshine and Miss Scary's Plot: Rabbits eat Miss Sunshine's carrots for her carrot party and she gets Miss Scary to help. While at the party not only did Miss Scary scare off the rabbits but she also scared off the guests. (Not in the UK)
Mr. Lazy and Miss Helpful's Plot: Miss Helpful as a Park Ranger has Mr. Lazy disguised as a bear to catch a sandwich bear. As it approaches Mr. Lazy runs away and Miss Helpful mistakes it for Mr. Lazy and Mr. Lazy for the bear and puts him to sleep and when he removes the head of the costume he scares the bear himself.
Mr. Persnickety and Mr. Messy's Plot: Mr. Persnickety tells Mr. Messy that it is 3:00 AM and be aware of skunks but they soon end up in his bed.
Trivia
All plots feature 2 main characters.
Gallery