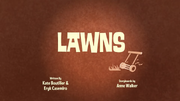 Yard Work (Lawns in the UK) is the thirty-ninth episode (first part of the twentieth episode) of Season 1 of The Mr. Men Show.
Synopsis
Mr. Quiet trims his topiary; Mr. Rude rakes leaves with a chipper Little Miss Chatterbox; and wild things happen when Little Miss Naughty cares for Mr. Nervous' lawn.
Plots
Miss Chatterbox and Mr. Rude's Plot: Miss Chatterbox bothers Mr. Rude saying that his lawn needs raking due to the leaves and they have a contest. Mr. Nosy and Mr. Small arrive and help clean it all up. The machine then explodes after Mr. Rude farts and all the leaves land in Mr. Rude's Yard.
Miss Calamity, Mr. Tickle and Mr. Quiet's Plot: Miss Calamity starts her mower with Mr. Tickle's help which developes a mind of its own and causes a calamity by chasing Mr. Quiet and smashing his lawn ornaments.
Mr. Happy and Mr. Stubborn's Plot (US version only): Mr. Happy is picking peaches at Mr. Stubborn's and tries to convince him that he has a gopher problem.
Miss Naughty and Mr. Nervous' Plot: Miss Naughty tells Mr. Nervous that his grass isn't growing well and ads formula to make it grow faster. The next morning his yard grows into a jungle with dangerous plants, snakes and quicksand and Mr. Nervous gets terrified when he goes out to get the newspaper. Miss Naughty then arrives thinking he is imagining again which he really isn't and Mr. Nervous got mad at her for that. Miss Naughty then took him safely inside. Then a wild boar chased Miss Naughty.
Trivia
Like Boo-Boos, all plots feature at least two characters.
In Mr. Nervous's plot he can briefly be seen without his glasses.
The whistling music played in the instrumental music video between the second bumper and Mr. Stubborn's plot was rearranged and repurposed into Mr. Funny's theme in the second season.
Miss Chatterbox and Mr. Rude are revealed to be neighbours in this episode.
Dub edits
In Mr. Happy and Mr. Stubborn's plot, gophers are referred to as moles.
Gallery